Norway had been triggering me for quite a while, with its peace, vastness and overwhelming nature. Combining an enjoyable city trip with a 'detox-mindset' isn't the obvious thing to do. I wanted to avoid the well-trodden paths and mass tourism. After quite some research, I decided to head for the Lofoten Islands, Svolvær being the operating base for my six-day detox.

After two layovers in Oslo and Bodø, I arrive in Svolvær. In 1996, the fishing village turned into a town and it still is entirely authentic, apart from a brand new Thon Hotel and some modern buildings.My accommodation looks out over the water and is every inch Norwegian. The high, snowy mountain tops, the clear blue sea water, and the colourful houses create the perfect background for the busy fishing port. Ideal for a detox trip!

Being Norwegian for a while
Norwegian islands are cold, wouldn't you think so? Well, very much not so in the summer, because then the temperature easily rises up to 25 degrees, more or less like at home. Winter is different, though: temperatures plunge deep below zero. Not that awkward, considering that no more than 180 kilometres separate the archipelago from the Arctic Circle.
This location has yet another meteorological consequence: the midnight sun. From the end of May until halfway through July, the sun doesn't set. That makes for a daytime of over 1800 hours, at least with regard to light. The Norwegian population is positively influenced by this: people are cheerful, energetic and always in good spirits. To me it's a source of confusion and it seriously puts my self-discipline to hit the sack in time to the test. A rather alienating experience!
The Norwegians speak English very well and are helpful by nature. That's what makes travelling here all the more pleasant. Another characteristic of the Norwegians is their modesty. Over here everybody is just oneself and can do what she or he wants to. You notice that in everything: the companionship, the simple style of the houses, the cars … I rediscover the basics of life, without worrying what others might think of you, and that rocks.
Better than a postcard
Lofoten consist of a multitude of small villages, so rather than a travel guide you need a decent pair of walking boots and a dose of curiosity. I set out having one single mission on my mind: to discover one of the many postcard landscapes. You know, the kind of scenery that looks too good to be true. After some rock climbing and some daredevil feats near the water line, I arrived at one of the most beautiful spots Norway has to offer. What a landscape! And way better than a postcard, since the peace, nature, and the authenticity are breathtaking in real life. Apart from some more recent buildings, which, for that matter, get my sympathy considering their growing economy, Lofoten totally lives up to the expectations when it comes to views.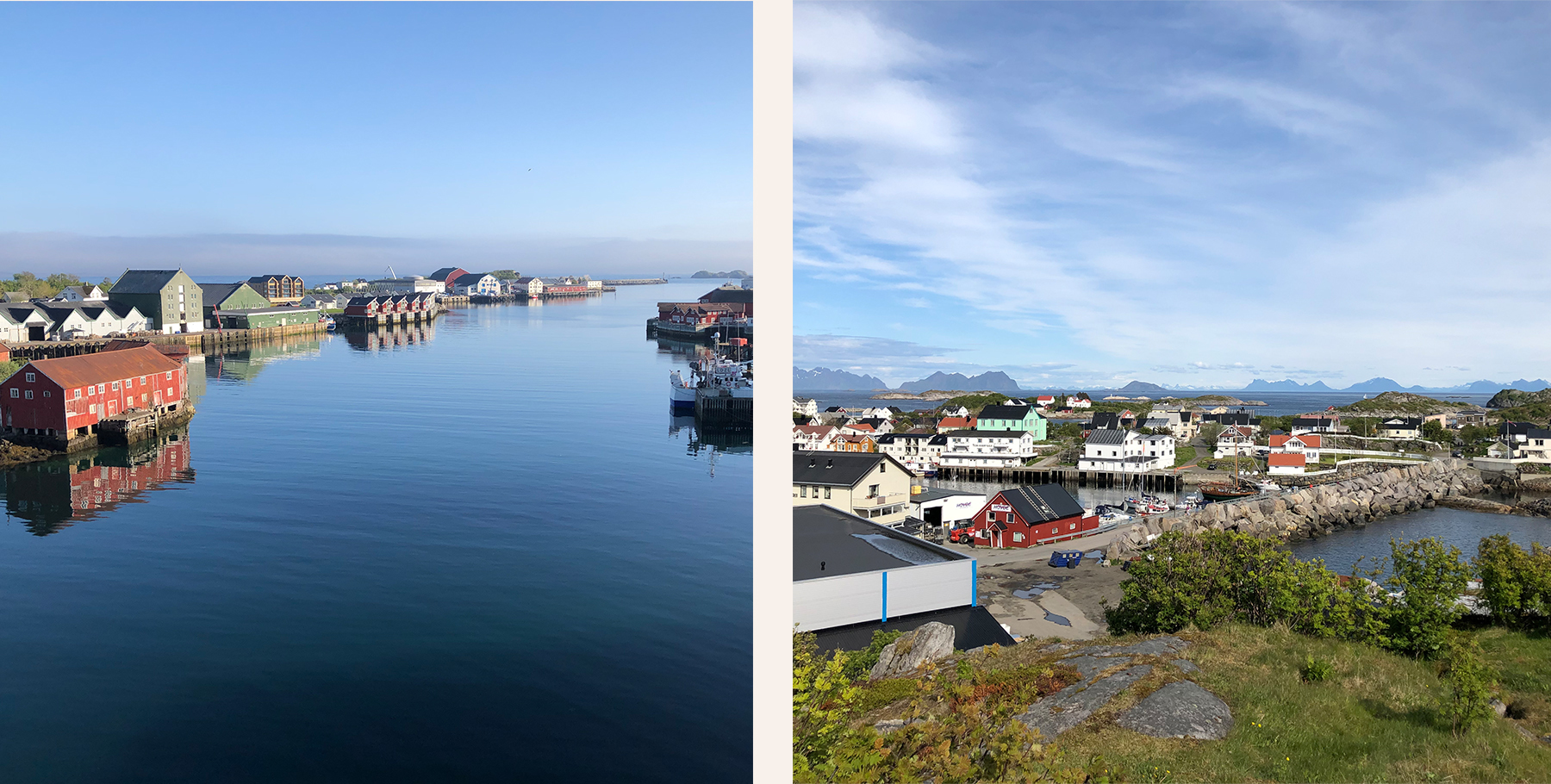 As you've read earlier, Svolvær is a town assuming the air of a fishing village. The image of the town is dominated by the Svolværgeita, the 'goat pinnacle. About the entire economy here revolves around fishing and shipping. The catch of cod is the main source of income for the inhabitants. A lot of houses have lashed constructions attached to them, from which countless fish hang down to dry. This makes for a unique image and a lovely briny perfume that spreads throughout the town. It also shows that the history of the Vikings still lives on in 2019. After drying it for months in the open air, the Norwegians get to enjoy a delicious salty fish. That's a must-taste!
Since there are scarcely any restaurants and no bars, I choose to cook for myself. At the local supermarket you mostly find Norwegian products. But the strawberries, as always, come from Hoogstraten! Expensive? You've guessed it! On average, Scandinavian countries are 25 % more expensive anyhow. The range of products on display is about one tenth of what you find in Belgium. It tells me how spoiled we are in Belgium and how pleasant it is not to experience any stress for overchoice.
Another difference between Norwegians and Belgians is their alcohol consumption. You can't buy a bottle of wine or liquor just anywhere. This is only possible in Vinmonopolet-shops, government-owned alcoholic beverage retailerswith strict opening hours. Fortunately, a cold beer can simply be purchased at the supermarket, whew!
Must do: Henningsvær
In my opinion, this beautiful village deserves to be recognised as a UNESCO World Heritage Site. Hennigsvær is about 25 kilometres south of Svolvær. A perfect distance to cover by bike, I thought. But I hadn't taken into account the mountainous landscape! Hence, my bike trip via the many villages along the road appeared to be rather time consuming, and so I arrived in the lovely fishing port of Hennigsvær totally knackered. Whew, no modern buildings here. Quite the contrary, it doesn't get any more authentic than this. You immediately sense the Norwegians' pride when it comes to this unique fishing village, and rightly so. I notice some tourists from our parts, which indicates that the region is gaining popularity abroad. But enough talking, after all that biking I'm starving!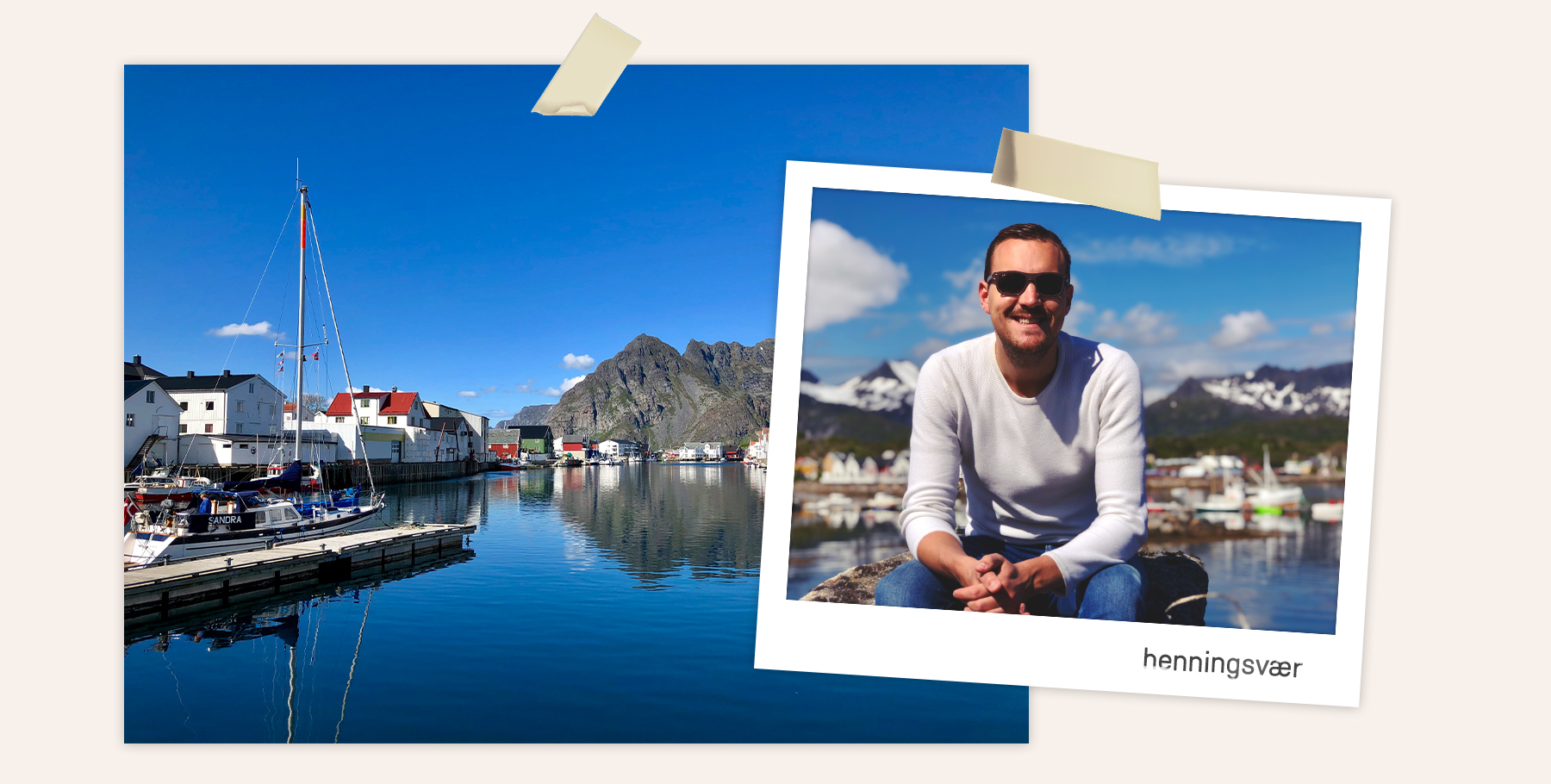 Time for lunch. I go to Lysstøperi & Café, a fabulous place where innovative entrepreneurship is not a dirty word, and which, as a consequence, gets to welcome an influx of guests. My preference for local cuisine is met with a delicious 'Lakssandwich' and a'Kaffe Latte'. The 'laks', or salmon, is succulent with a finishing touch of egg salad and smørrebrød.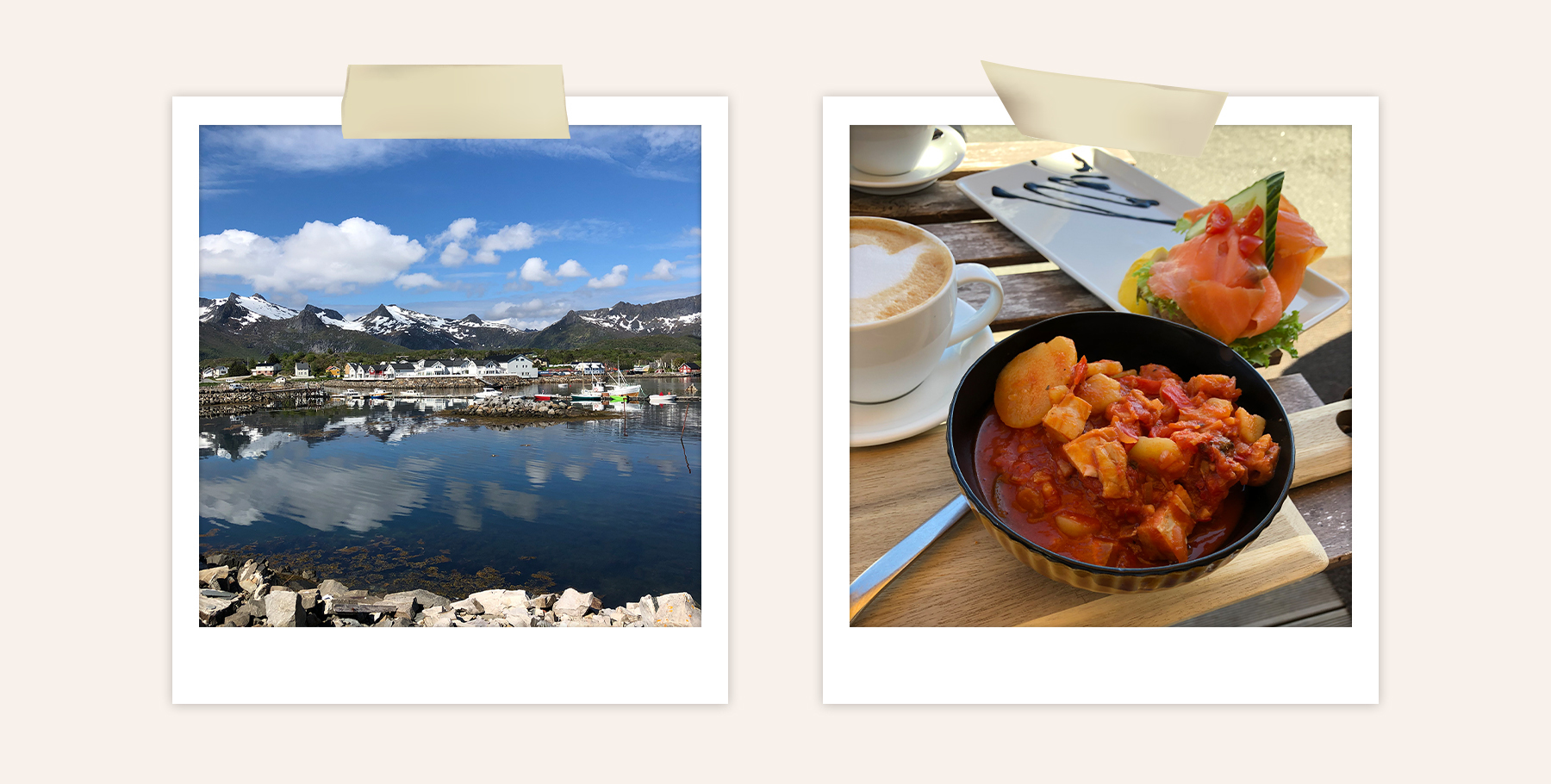 Since it's something unknown, and because I can do with some extra energy after my bike trip that took for hours, I order another dish, 'Bacalao'. Bacalao is a typical Norwegian dish with dried stockfish. Nice and spicy in its tomato sauce, it is the metaphorical icing on my brunch-cake! After my lavish meal, I leave my bike for what it is. The bus ride back to Svolvær is a lot less exhausting!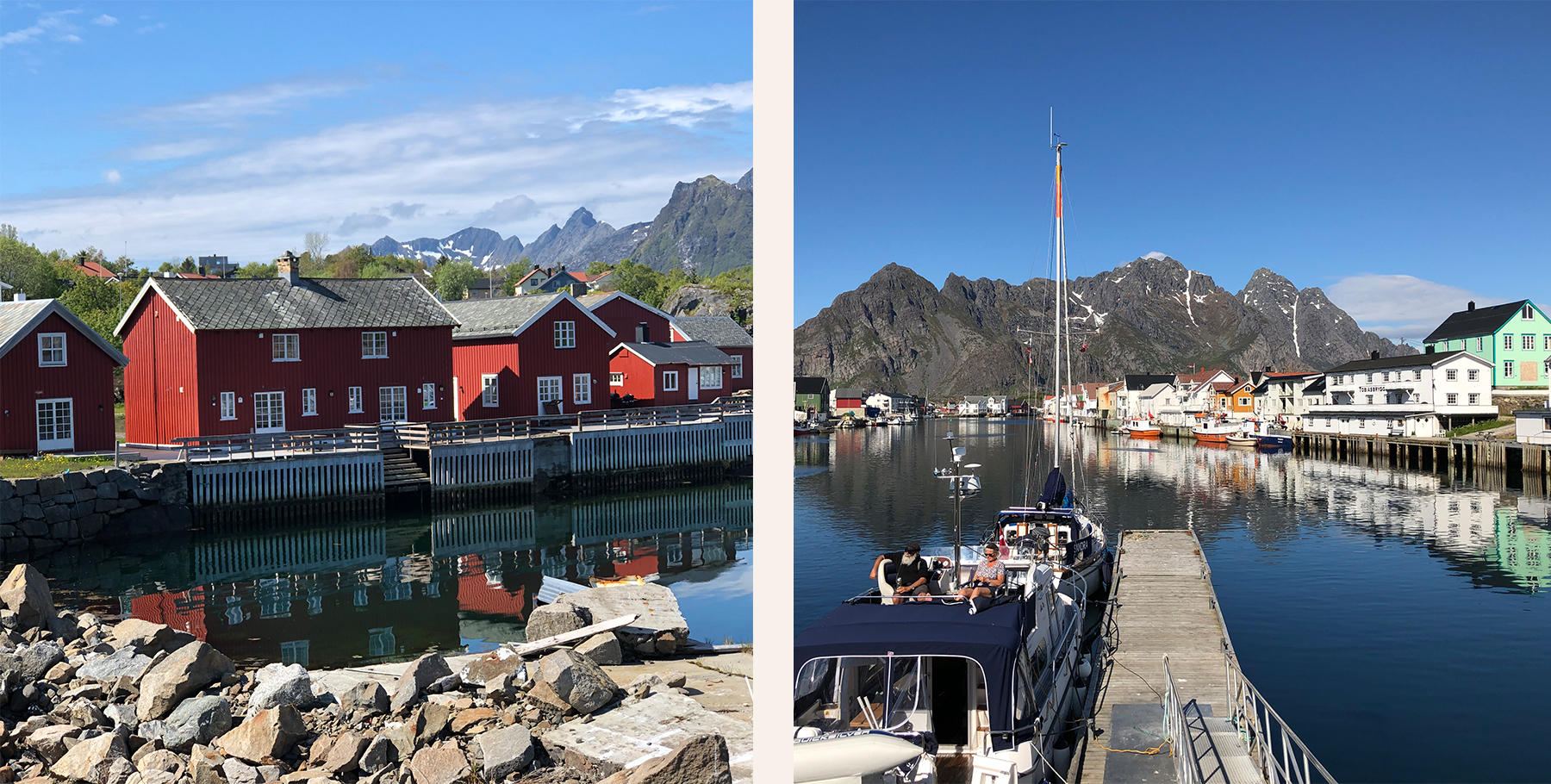 Museums
Totally unexpected, I visited two museums during my stay. That wasn't something I would immediately associate with Norway, but I'm glad I did it! The Lofoten War Memorial Museum, for example, is quite impressive. The museum is situated in the heart of Svolvær and owns quite a vast collection of objects from World War II. I saw quite some attire from that era, which has miraculously remained intact. This collection shows how cruel this war has been, but also what a bizarre character Hitler actually was. Did you know he had his own Christmas baubles? And that he was a passionate Disney-collector? I didn't, but a visit to this museum taught me.

A little further down the road, in the village of Kabelvåg, I discover the history of Norway during the Viking Age. At the Lofotmuseet you see how they lived, the things that have been has been preserved, and how mighty their fleet was. Nice job!
Lofoten offers all you need for a short detox, to enjoy peace and quiet, nature, and the simple life in a fishing village! Highly recommended!
Written on 31/07/2019 by Bert