Split, Croatia's coastal pearl
Split is where I start exploring. The city figures on the Unesco list of World Heritage Sites, which shows in its popularity as a holiday destination by the Adriatic Sea. Only right so!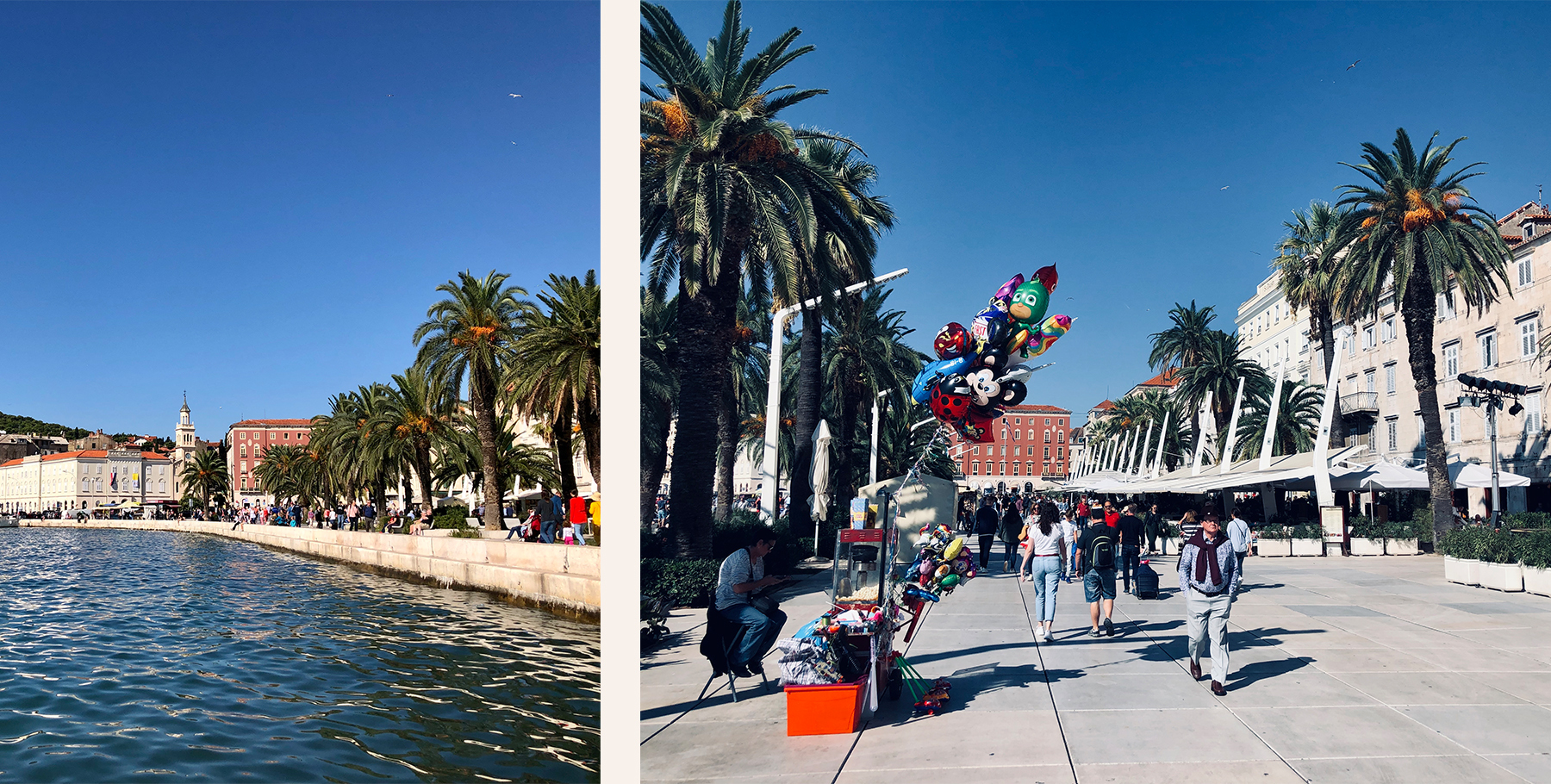 Split is a very tidy city that meets the expectations of the active tourist. Although you don't spot any e-scooters yet, they are probably about to arrive. After having a chat with some friendly locals, I soon learn about that mass tourism has both advantages and disadvantages for the local populations.
The Croatians, however, are relaxed people and know what quality is all about. If you, like me, have worked in catering for years, you know what I mean. It can described best as 'the critical customer with an eye for quality'.
The picturesque squares and charming façades dominate the city centre. Diocletian's Palace is crowded with visitors, attracting attentive Chinese, Americans and, notably, a lot of Germans. Fortunately, I also discover the lesser beaten tracks in the centre, where peace and quiet can be found. I walk up to the Marjan Park. A must do! From the mountainside, you get a breathtaking view over Split's coast and the Adriatic Sea. And a warm sea-breeze, even in early October, makes it a heavenly experience.
A trip can only be a success with an expedition into culinary hotspots! In Split, you are being served a Mediterranean cuisine, at European prices (read: tourist proof). Along the way, several lovely, innovative business, where young people give their creativity free reign, catch my eye. In 'MakaMaka' I enjoy the best açaí bowl I have ever eaten. My freshly squeeze detox juice of cucumber, carrot, ginger, apple and lime complete my brunch.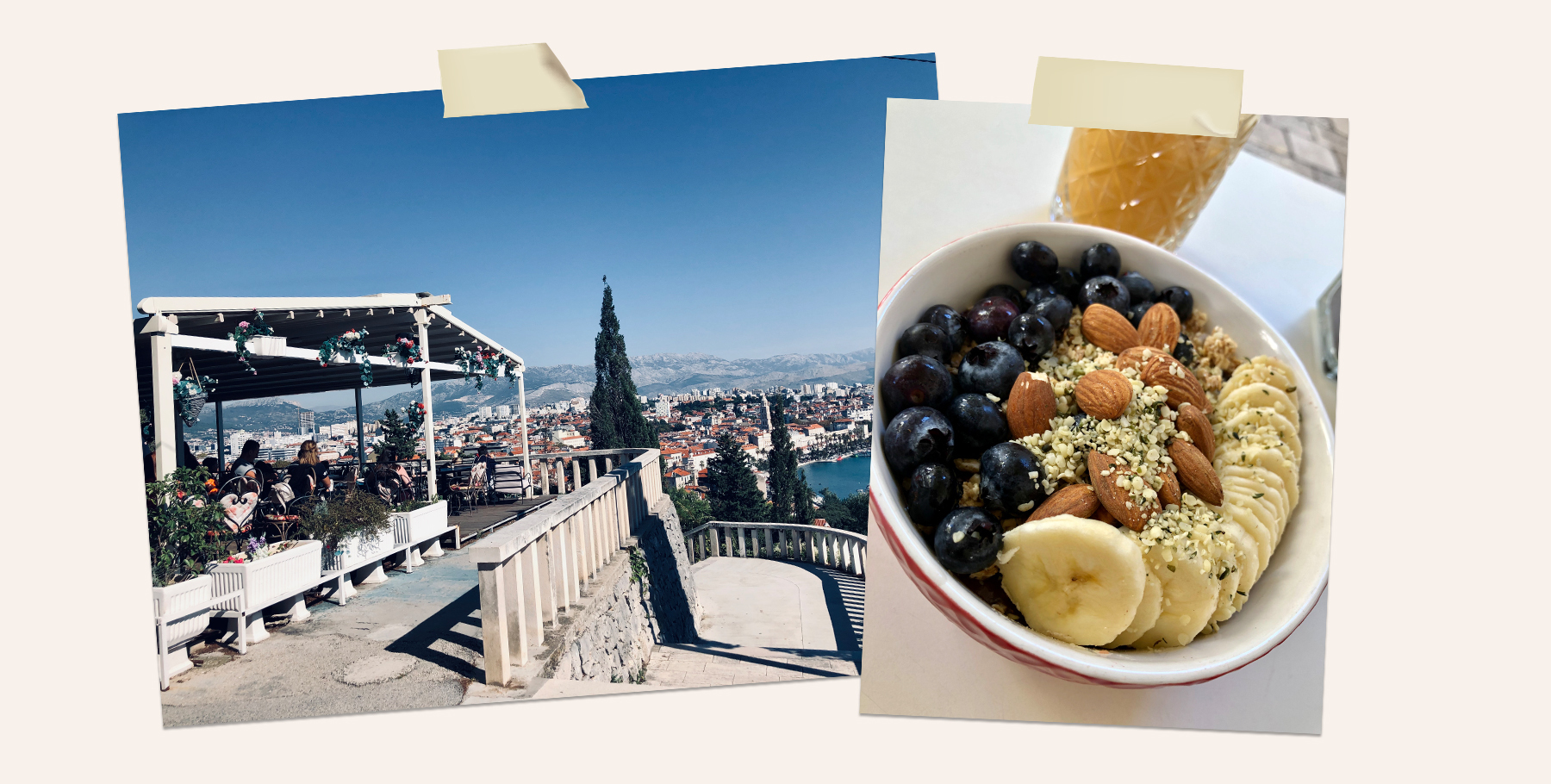 Shimmering Zadar

Leaving Split, I head for Zadar. I use one of the many bus connections that connect the city with other inland cities and neighbouring country Bosnia.

And it's a must: a bus trip is noticeably cheaper than over here! For every 100 km you pay about four euros, which gets you a comfy trip, air condition included.
In Zadar locals and tourists soon guide me to the promenade. It's bull's eye at dusk! You see studying students, board games, wines and an Instagram-proof sunset. Me, I also enjoyed the setting sun with non-stop sea sounds dancing around us. The promenade literally becomes a disco floor. Ready to party!
In the city's tiny streets, you find a warm welcome and lovely food. At '4 Kantuna', I discover a delicious pizza on the menu, and although restaurant 'Groppo' is well-thought of on TripAdvisor, it fails to satisfy my hunger for a culinary find. 'Or is it because they were out of their famous squid?'
Need to say: the Croatians still lack a varied and tasty breakfast. Yet, bars and restaurants open their doors at 8 a.m. already. For now, it remains a missed opportunity.
Fortunately, Cogito Coffee is to my liking and I order the delicious toast avocado with goat's cheese, tomato, and balsamic. The goat's cheese is 100% local and you taste it. For those who are into a real caffeine boost, a Croatian coffee is your lucky shot! The accompanying glass of tap water is standard procedure. My compliment to 'La Famiglia' on their crisp Caesar salad.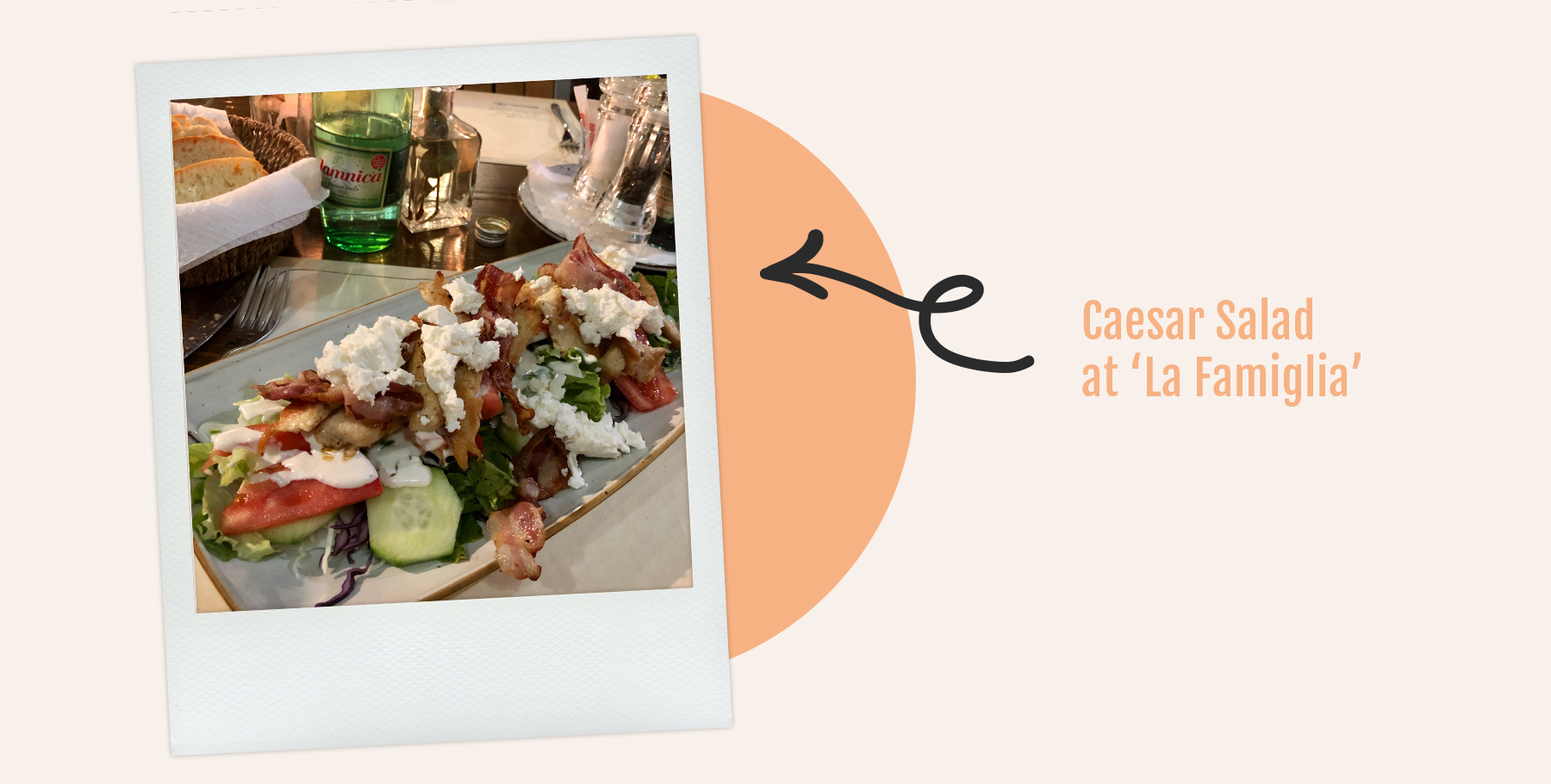 In a lot of cities, 'Mlinar Bakeries' pops up. They are traditional bakeries, but without cakes. Doors open early in the morning and close late at night. The long queues of waiting customers are proof of the immense popularity. This is where I have to go! I try the 'Burek', a round puff pastry with cheese, meat, or something sweet. A snack that does the trick.
Here, you also find 'Pogaca', like focaccia yet with salty fish, tomato and fresh onions. The hard work to serve everything fresh as can be shows. A true asset!
If I may allow myself one particular thing? Croatians are smokers. Indoors, outdoors, at the restaurant … you find them everywhere. Like it or not, it's to take or leave.
Split raised the bar high, but Zadar fell short of expectations. Though Zadar has its charm, the relatively bigger Split convinced me more.

Mostar and its marvelous bridge
Still fancying some more travelling, I decide to head for the lesser known Mostar in Bosnia. 'Stari Most bridge', here I come!
Funny how, within 4,5 hours, you end up in a completely different world. I immediately sense the traces of the devastating civil war that afflicted the region in my year of birth, 1991. I book my first stay in a four star hotel near the old city centre, starting point for my quick visit.
Opening the brand new curtains of my hotel room in the morning, I bump into a Catholic church. Of course, because apart from Muslims, a lot of Christians inhabit the city. Looking back, religion isn't that present here. After a quick continental breakfast, I go on my exploratory expedition.
At dawn, I find myself on the famous Stari Most bridge. Quite alone still, but from 9 a.m. onwards, the masses start their non-stop marathon over the bridge. I caught myself crossing the bridge seven times and drinking coffee twice with a view on the bridge. Don't ask me why, but I am intrigued.
Here also, tourist shops dominate the scene. Don't forget to stop for an ice-cream, or flop into a chair on one of the charming terraces. I choose 'La Teraza'. With a view on the bridge, I feel like I'm on a royal balcony and it's sheer joy.
Around noon time, locals start a real show on and around the bridge. The daredevil stunts are a true moneymaker trick most tourists fall for.
I continue my trip to the highest tower, where you get to learn more about the war. The impressive portraits of destruction, victims and survivals make you go quiet. I meet a man who offers me a filterless coffee. What a view!
I must admit, Mostar gave me goose bumps. It's impressive how the city has recovered from the bombings 30 years ago. Thanks to world-wide support, especially from the Netherlands, the heritage was also fully restored. The resurrection of the iconic bridge amounted to 13 million euro, but that appears to have been worth it, considering the mass tourism it instigated.

The craters from the war have, literally and figuratively, left deep scars. And one still senses that. From time to time, you bump into seriously dilapidated buildings, of which the owners will probably remain warriors forever. Which reminds me of what a cruel place this world can be. It obviously is of less concern to countless groups of Chinese and people following flags. Alas…
Contrary to what one might expect, the cold thought takes turns with the colourful façades that remind me of my trips to Cuba (2016) and Capetown (2018). They provide a sense of freedom, look good on postcards, and are a paragon of expression for the local population.
Having acquired loads of impressions, I head back to the hotel for a Caesar salad and, for sheer curiosity, order pancakes with nutalla and banana. Hea-ven-ly!
Last stop, Sarajevo

The next day, I hop onto the bus for Sarajevo. The city is significantly bigger than the picturesque Mostar and the presence of large numbers of businessmen strikes the eye. My pleasant walk through the city's streets is interrupted from time to time by the heavy traffic. There is, however, also the option of ancient trams that guide you through Sarajevo.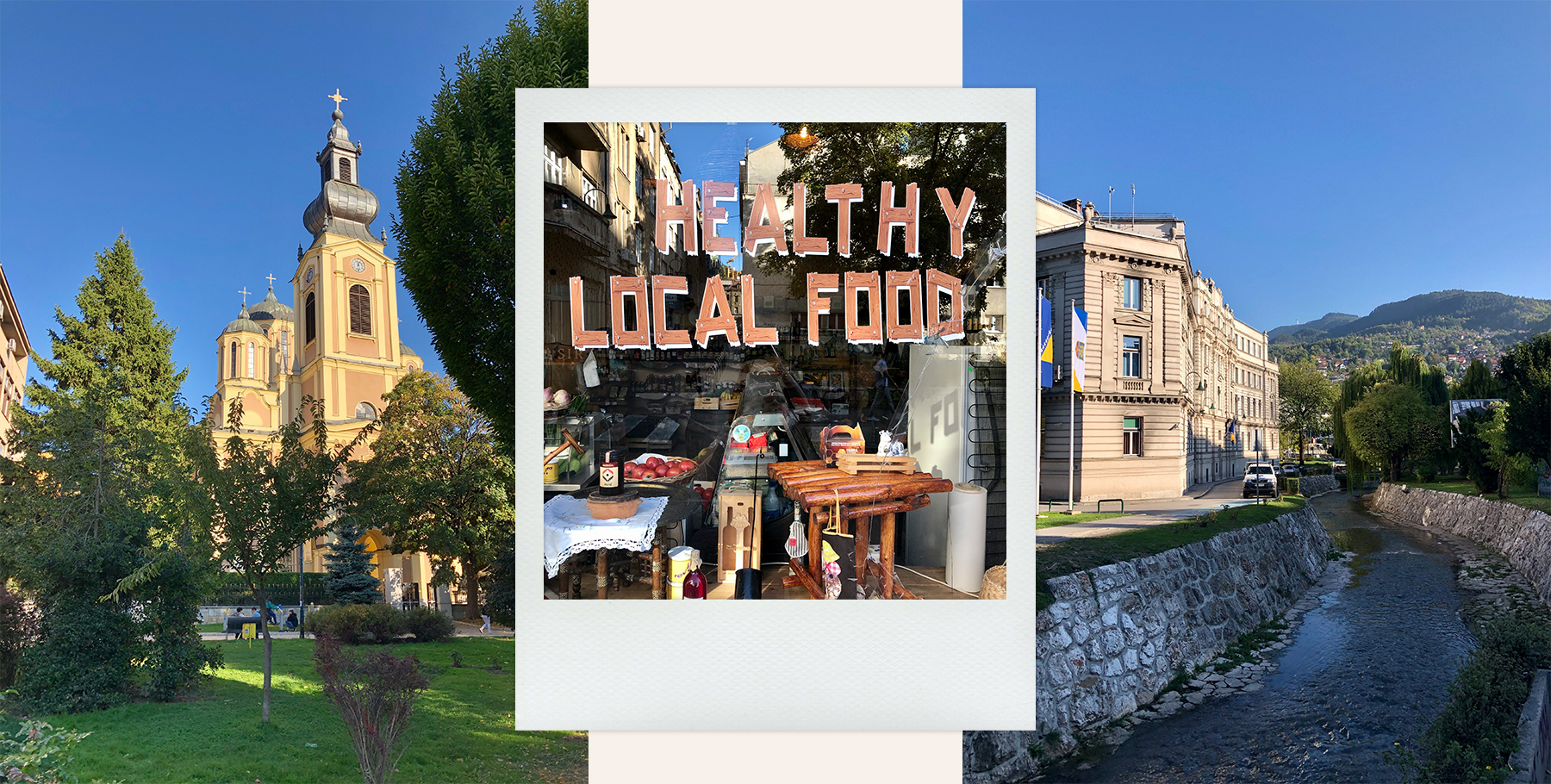 Is it just me, or do other tourists notice it as well? Just like the Croatians, the Bosnians are heavy smokers. Anyway, that must part of the country's charm, I presume.

Sarajevo is a city of nightlife. Especially in the evening, life is very animated, but I allow that opportunity to pass. I'm homeward bound after an intense trip.
Good to know:
No euro, no Croatian kuna. Bosnia is not a member of the EU and hence, safety measures are very strict (even when you travel into the country on a tourist coach). The local currency Mira has to be obtained upon arrival.
Get an international passport!
Mind the stuff you buy and where you buy it. Taxi drivers tend to sell at high tourist prices.
Written on 31/10/2019 by Bert